---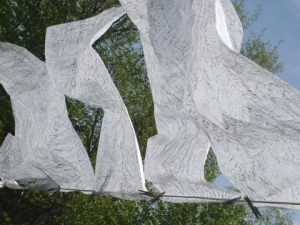 The Human Tracks Project
The Goddard incarnation of the Human Tracks Project ran as a peer seminar during the spring of 2011 with Peter Hocking titled Human Tracks: Artful Dialogs with Place.

Seminar Description
This site-based project activates a renewed awareness of the natural and human-made environments through collaborative inquiry and art making. We recognize that these environments are more than physical places – they are urban and rural eco-systems. The seminar invites exploration of (and art making in dialog with) many ecological edges: woodlands and watersheds enduring generational changes of human use, our thriving or declining farms, our working, abandoned and misused waterfronts, our coastal downtowns and river mill towns, city parks, street corners, sports fields and ball courts, green markets, urban forests, neighborhood, roof top and botanical gardens, and casita green spaces set the stage for relationships among people. Human Tracks brings together the perspectives of social and political history, environmental sciences, anthropology, and art and design to investigate and address the concerns of social justice, conservation ecology (species survival, resource depletion, and climate change), and the impact of aesthetic experience (negative and positive) on the quality of human life. By framing our view of the "lived landscape" as Human Ecologists, we come to recognize both natural phenomena and human artifacts as features/ indicators of our relationships with environments and come to experience these places as more than spaces we move through but as dynamic ecosystems that we interact with. The project includes several modes of learning: 1) group reading/discussion from a collaboratively developed syllabus; 2) site-based work in a range of aesthetic practice and arts disciplines; 3) presentation and discussion of individual research and art making via web and other media; 4) investigating the possibilities of remote or physical collaborations between group participants; and 5) creating a culminating means of disseminating our seminar work (perhaps in the form of a publication).

The images shown here are from my personal project "A Barnyard Collaboration among Species: Goats and Humans". The project includes two sites to date --the indigenous or original site located in our goat paddock on top of Moulton HIll in Thorndike, Maine in 2010-11, and the Goddard College campus, Plainfield, Vermont to which the installation migrated in July and October of 2011.
---